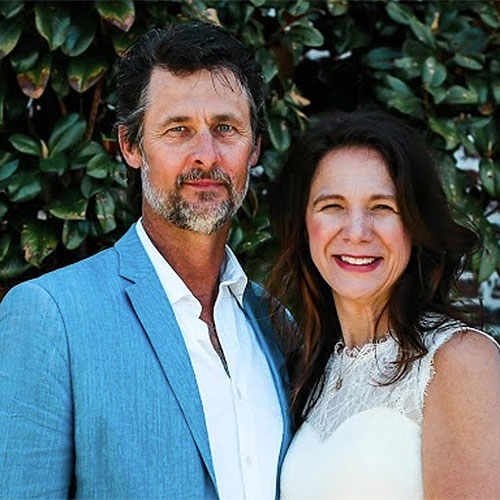 Members of Remnant Fellowship since 1999, Rick and Jenni currently live in Brentwood, TN and have two sons and one daughter - all married and living near them.
One of the original families to join Remnant Fellowship, Rick and Jenni felt a seamless unbreakable commitment to this Church upon first sight. They have never looked back.

Jenni was raised in a conservative church denomination. She felt she was always seeking answers as to the reason for the contrast of her life in comparison to Christ's life. Taking Weigh Down classes and laying down greed for food lifted a veil on her eyes, and God showed her the hypocrisy in her own life and in the church that she had attended all of her life. Because of Gwen's example and her way of teaching the " how to" run to God for everything, Jenni had a renewed hope that she could be permanently set free from the bondage of sins. Rick grew up not going to church very often. When he did attend, the church that his family attended was very conservative, and reading what the Bible was saying was right versus what he was taught at church seemed to be in conflict. The raising of hands or clapping during worship was forbidden yet he saw this in the Bible as well as many other things. Because of the confusion in religion, Rick filled the void in his heart with other idols. The lack of peace with God in his own heart prompted him to search for more answers with Jenni, and his answer was found upon finding Remnant Fellowship.
Now, their hearts are full of joy, their family is close, and they love to be together and volunteer at Church events.
Jenni was invited to a Thursday night Bible study at the Weigh Down building and this showed her the reality of a fellowship of like-minded believers who desire to live out their lives in the footsteps of Jesus Christ. This opportunity to study the Bible and Church history with Gwen Shamblin felt like God opened their eyes to His will and the delight of following Christ. The rest is history… Now, their hearts are full of joy, their family is close, and they love to be together and volunteer at Church events, especially on the Food Committee. Jenni also gets to work at Weigh Down in the areas of outreach and shipping. The Mendls have three children, Alexis, Austin and Aubrey who have been raised in the Church and love to be together and actively participating in Church activities.​