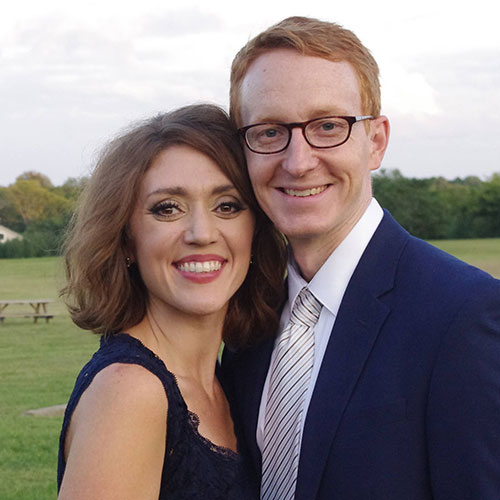 Members of Remnant Fellowship since 2013, Tim and Rachael currently live in Franklin, TN and have two sons and three daughters.

We praise God for Weigh Down Ministries and Remnant Fellowship church! I (Rachael) was introduced to the Weigh Down through a friend who gave me the Weigh Down Diet book in April of 2012. I immediately started putting the principles into practice and found freedom from overweight, food rules, and frustrated parenting. Even though I was raised in church my entire life, I was finally being taught how to lay down sin, pride, and selfishness! During the next few months, I continued to change, and the changes were very evident to Tim. God allowed me to lose 45 lbs, become a more gentle and loving mother, lay down control, pride and anti-authority. I was getting answered prayers for the first time in my life and my heart was full of peace! As my relationship with God was growing, I wanted to go deeper! I started tuning in to everything I could get my hands on from Remnant Fellowship Church. As I put every little thing that Gwen suggested into practice, I was shedding years of legalistic religion and my heart was free to love God alone!
As Tim watched me change, he inadvertently starting putting the Weigh Down principles into practice himself. He would prick his ears up when I had a message from Remnant Fellowship playing in the background. He went on to lose 25 lbs, but the changes in his own heart were undeniable. Later that year, we started webcasting consistently, and became members of Remnant Fellowship in August of 2013. Tim had also grown up in church, but not until he heard Gwen Shamblin present the word of God was he able to lay down pride, praise of man, love of money, anger, lust, workaholism, self protection, legalism, self preservation, love of self comfort, over eating, over drinking, general dislike of people...the list goes on.
We are so grateful for the changes in our life and that God is giving us the opportunity to change to be like his son, Jesus Christ.
Laying down all of the sin allowed an open spot in our hearts for God's spirit to come in and give us a brand new life. The evidence of this new life is a loving fear of God, a beautiful and right-sided marriage where Tim is leading the family, I am supporting him, and the children are following. We have peace in our home, and our children love each other and desire to have a relationship with God! Everything that was upside down in our life before was right-sided. We were thrilled with the changes in our family! We had gone from a legalistic religion to a religion of love for God first! Our children were completely different, and we were growing more in love with God and more in love with each other every day! But we could tell something still wasn't quite right. We needed to go ALL IN.
We visited Remnant Fellowship for the Festival of Lights/Celebration of Christ in December 2013. I cannot remember what was said during that weekend, but we were changed yet again. In the car ride back to our home in Indiana, we made the commitment to go all in with fellowship with the saints. We committed to making this lifestyle of serving God and serving the Saints of the Most High God our highest priority. We committed to denying ourselves, taking up our cross, and following Jesus all the way to heart of the Father. We committed to attending every Remnant Fellowship church service, every fellowship opportunity, and every opportunity to serve that God allowed! We committed to never going back to our old way of life. God has blessed this obedience in amazing ways!! We have five children who are seeking the face of God and His approval. We have a very large extended family that has been putting into practice the Biblical principles being taught at Remnant Fellowship Church and Weigh Down ministries, and have lost more than 400 lbs altogether along with a myriad of other sins and selfishness! The lion's share of our extended family is walking out this obedience unto salvation together and is united in love for God! We had the amazing opportunity to move to Tennessee in 2015. We are SO grateful for Gwen Shamblin and all of our leadership at Remnant Fellowship church. We are so grateful that we are being taught how to lay down sin and overcome every stronghold. We are so grateful for the changes in our life and that God is giving us the opportunity to change to be like his son, Jesus Christ. We feel so blessed and so humbled to be able to serve God and his church in his Kingdom of love.